R60 Rainbow 60″ x 40″ Hoop

Pole Size: 6″ x 6″
Pole Thickness: 7 gauge
Pole Height: 5'5″ to 10′
Backboard Thickness: 3/8″ Tempered Glass
Lower Support Arm: H-Arm
Anchor Belt Pattern: 9″ x 9″
Warranty: Lifetime
2023 Price: $2,899
Super Sale Price: $2,299
Installation: $750 / Sale: Included
Pole Pad: $199 / Sale: Included
Edge Pad: $199 / Sale: Included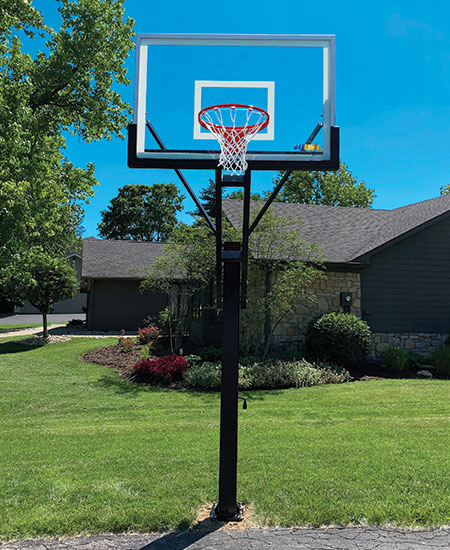 Rainbow Hoops are engineered to last a Lifetime
If you want to play at the highest level, you need the highest level basketball goal, and that's exactly what you'll find in the Rainbow Basketball Hoops. Our models are built to look and play exactly like a professional basketball goal.
Made in the USA with a Lifetime warranty.
Effortless Rim Height Adjustment
-Steel Encased and Sealed to prevent water intrusion.
-Synthetic bushings prevents unnecessary wear.
-Massive 7/8″ threaded rod is the largest in the industry.
Clear View Backboard
-Exclusive structural grade aluminum trim design allows for an unobstructed clear view.
-The Clear View Backboard design provides constant performance and ball rebound without dead spots.
-Wide stance lower arms offer the best side to side stability performance.
Pro Style Heavy Duty Flex Rim
-Attaches directly to the low profile support structure.
-Engineered too handle aggressive play.
-Designed to transfer energy directly to support structures.
-Eliminates stress applied to the glass backboard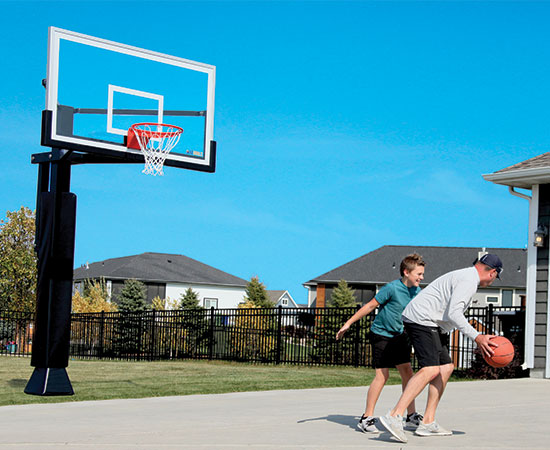 Stop by the Gotta Play showroom in Danbury, CT. to see which model will be best for the future NBA & WNBA stars in your family!